How many times, as a Flash Lite Developer have you come across an iPhone application which used the GPS and did some cool thing with your location or allowed you to use the Accelerometer feature and play a car game. As a Flash Lite developer one has always felt the urge to gain more control of the device and do things at the core application service level which you see iPhone Developers did with their iPhone apps. Now there is an answer to this (at least partially) – Nokia has released an Flash Lite Services API as part of the S60 5th Edition SDK & Tools which allows Flash Lite developers to get access to Platform Services on it's 5th Edition Phones.
Briefly, this allows Flash Lite developers to:
Now, these were things which were never possible to do using previous releases (2.0 and below) of Flash Lite. Until now, developers had to use tools like KunerLite, Python for S60 and other third party tools for even simple things, forget about Media management et al.
The usage of the Services API is also as simple as importing the com.nokia.lib.Service object, creating a new service object with a provider name and interface name like this:
import com.nokia.lib.Service;
var messaging = new Service("Service.Messaging", "IMessaging");
You can download the the Nokia ActionScript Services library form here (the package just contains a handful of intrinsic classes, so if you are looking for actual code it isn't there) and for a detailed usage guide, refer to this link.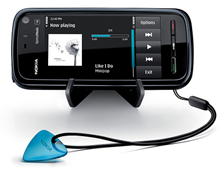 The only Nokia devices in the market, as far as I know which can support these features at the moment is the Nokia 5800 XpressMusic but I am sure that there would be more devices based on the 5th edition platform in the near future.
There is also a rumor that there are plans to extend this to older platform phones as well – not sure if its true.
Now coming to a practical use of these features, the potential which these features brings in for FlashLite developers is pretty significant. Some possible usage of these features would be:
Location-aware applications in Flash Lite
Maps and Travel related applications
Native messaging capabilities
Learner Tracking in Mobile Learning (mLearning) based applications using the Messaging Service
Social Networking apps using the Contacts service
The list can go on and the possibilities are just restricted by ones thought.
The last one in particular is quite interesting – think of an application which can look up on your contacts, map it against the contacts in your friends phone and create a group of common friends or a network visualization. There are some really interesting social networking oriented features you can develop with such possibilities.
From an eLearning (or rather a Mobile Learning) perspective there are quite a few things you can do with these services such as delivering quizzes on the fly, polling, class management, LMS integration/interfacing and much more.
Looks like Flash Lite just got more powerful !