The Blackberry PlayBook was released early this year amidst a lot of buzz and excitement. Initially, we as developers, were pretty hesitant about foraying into the Blackberry App space cause; let's face it! We were talking about a really new device that had not yet proven itself in the tablet market. Also, we really had no clue on how many Playbooks could actually get sold in the near future.
But given our expertise in developing mobile applications for both iOS and non iOS devices, we decided to take our chances and give this a shot and it has proved to be a wise choice on our part.
Our very first PlayBook app "StockPulse" was up and running even before the PlayBook hit the market. And being a pioneer in a fast-growing area like this is really rewarding! We even won a free PlayBook for our efforts!
One feature which makes our apps stand out in the crowd is our very intuitive User-Interface that has had our users raving about. You can check it out for yourself when you have a look at the screenshots for each of the apps that we have released so far. Our apps so far are across categories like Health, Finance and Utilities. Let's take a closer look at all of them.
StockPulse: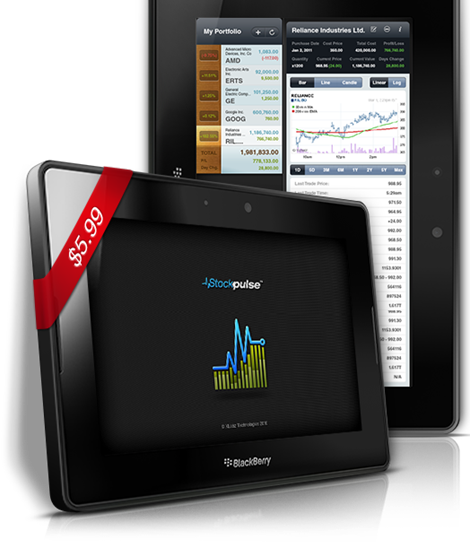 StockPulse lets you keep track of your stock and investment portfolio in a very organized fashion. It supports all the major stock exchanges around the globe and is suited for both newbies and for all the hot-shot market analysts.
You just need to add the number of stocks and the date of purchase of those stocks to your portfolio and StockPulse will keep track of data like individual stock movement and overall portfolio gain/loss and also all the latest news related to your stocks. You can also get detailed stock information on technical charts which can range from a period of 1 day to almost 5 years.
Not sure which stocks you would like to invest in? The "Watchlist" lets you make the right decision. Here's where you can track the performance of those stocks that you wanna keep an eye on and get all the latest updates regarding those stocks. This feature was introduced in StockPulse version 1.0.4 based on our user reviews and feedback.
You can read more about StockPulse and purchase it from the BlackBerry App World here:

Health Tracker PRO:
Looking for an easy way to keep track of your BP, Blood sugar and your BMI? Then Health Tracker PRO might be just the right thing for you. You don't need a degree in Medical Science to use this app. The UI is very straight-forward and as simple as it can get.
What you need to do is enter all your vitals like height, weight etc. into the app and it will calculate values like your BMI, Blood Sugar levels and Mean Arterial Pressure. The app features a Dashboard which shows you all the readings from the last time you measured them and also shows you if any of those readings are off the chart.
The app also has provision for plotting all the parameters on charts which you can also take a snapshot of and store it in your device for later use. For people on the move or too busy to visit your doc, you can export your medical records, say over a period of time and just email it across to your doctor. This provides a convenient and fast way for your doc to give you timely advice and can help you take corrective action immediately.
You can read more about Health Tracker PRO and purchase it from the BlackBerry App World here:
File Explorer:
This is our version of the Windows Explorer for the PlayBook! Managing all your dozens and dozens of files and folders has never been this easy! File Explorer presents an expandable folder tree, breadcrumb style navigation bar and folder contents with 3 viewing styles- Thumbnail, List and Details view.
You can do just about anything with your files using this app: Cut/Copy, Paste, Rename and Delete to name a few.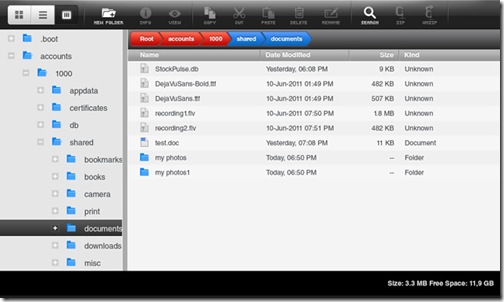 Our users really felt the need for a few more features. So we did just that! On version 1.0.2 of File Explorer you can now zip your files and search for stuff not just within your current folder but also in the shared documents folder!
File Explorer also lets you launch your files by simply pressing and holding it and it launches in the default configured application on the device. So what are you waiting for? Get File Explorer now and play around your entire file system with ease!
You can read more about File Explorer and purchase it from the BlackBerry App World here:
We'd really like you to give us your honest feedback after using our apps. As you can see from our user reviews, we really go all out to try and make the app experience for our users a breeze! Happy Playbooking!!