Sketch W Friends has received a brand new update. Here's what's new in v4: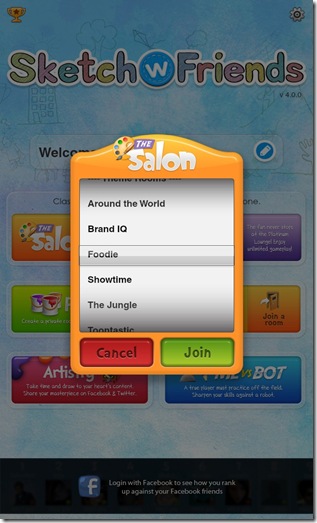 1) Theme Rooms: We've added 6 themed rooms:
Around the World – Go on a journey to places far and wide!
Foodie- It's all about food! Yum Yum
Showtime – All your favorite movies and TV shows!
Toontastic – Have fun sketching cartoon and animation characters!
Brand IQ – Pepsi, Nike and much more!
The Jungle- The Animal Kingdom awaits you!
2) Stroke Rooms: Draw the given word with just 1, 3 or 5 strokes without lifting your finger! This feature is sure to make things a little more challenging for all of you
3) Challenge your Facebook friends to a mini game of Sketch W Friends by posting your drawing on Facebook.
4) Finding it a tad difficult to sketch your word? Go ahead and skip your turn!
5) Plenty of new words added to the wordlist.
Read more about Sketch W Friends and download it here. Join the conversation on Facebook for all the latest news, fun activities, contests and surprise giveaways!