We know how much you "Blackberry Boys" travel on your business trips. It sometimes gets so crazy that you might find yourselves in Paris for Breakfast, London for lunch and Germany for dinner! And the most difficult part of these trips can be trying to locate the nearest restaurant, hotel or just a quiet little café which has a Wi-fi facility! Well, you can stop worrying about that cause we have just the thing for you!
"Find Near Me"- an app we developed quite some time back and is already immensely popular on the iOS devices- is now available on the Playbook! With just a few clicks, you can spot just about anything- ATMs, taxi stands, subways and the list is endless.
Once you have located whatever it is that you are looking for, you can just tap on the pointer and you get access to a whole lot of information like the exact address, contact number and even how far that place is from your current location! Not just that, the app also shows you all possible directions to get there and also gives you the top search results on that location! So you could maybe even read up some customer reviews before you decide to go somewhere.
You can even customize your search by adding and saving your own search terms so that searching becomes all the more easier for you.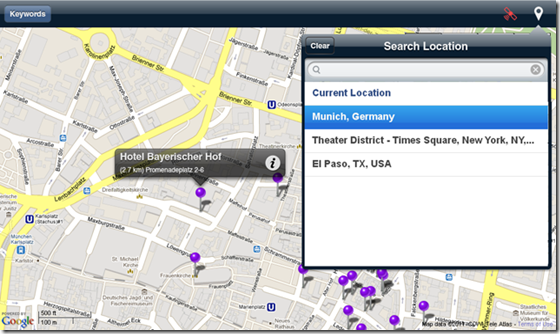 One cool thing about "Find Near Me" is that you don't really have to "be" in a particular location to get details about the places there. You have a feature wherein you can explore a new city before even going there!
So the next time you are stuck in a new city, where you don't understand one word of what the folks there are speaking, and you have to find a decent place to eat- you know what to do!
You can read more about Find Near Me and purchase it from the BlackBerry App World here: