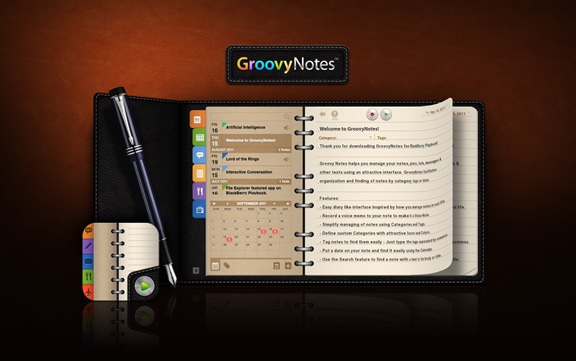 We at XLabz are thrilled to announce that our latest app for the BlackBerry PlayBook – Groovy Notes- which was launched just 2 days back, is already the Top Purchased App on the App World! We are quite ecstatic at the moment and as always wanted to share this news with all our users out there.
Groovy Notes is yet another addition to our existing list of Adobe AIR based mobile apps for BlackBerry PlayBook and here's a gist of what it's all about. Groovy Notes looks and feels like your personal diary, but has a very groovy dimension to it. Use it to create notes, to-do lists, memos and organize them by categories, dates and even tags. What's more, you can spice it up by color coding your notes and using some really interesting icons.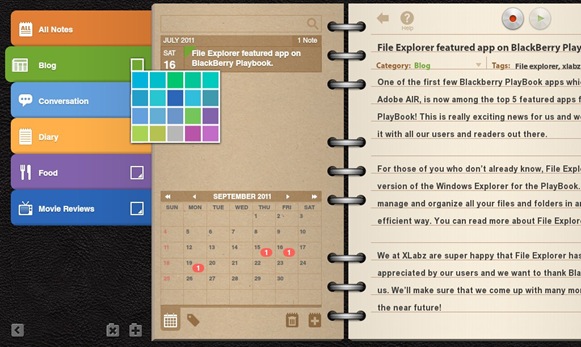 Trying to locate that one particular note on Groovy Notes? All you have to do is type in a keyword or just search by category, date or tag. If you are in a meeting and just can't seem to type anymore, go ahead and record the entire conversation on Groovy Notes! Now you can organize all your voice notes just like the text ones.
Our users have had a go at Groovy Notes and here's what some of them had to say:
"By far the best note taker, to do list maker, calendar, all in one. You can make categories, add dates to notes and lists and see them on a calendar (say to pay bills on time), search notes, add tags, voice memos etc. And it does it without much lag. Also did I mention this app is very easy on the eyes? This is the kind of quality we need more of, on PlayBook. This is the first app I give 5 stars because I honestly think it deserves it."
"I have to admit this beats the snot out of all the other day planners/note takers. It's intuitive, fast, organized and I don't really miss the 5 bucks I lost on it. "
"Although a little pricey in the Apps world I thought I would take a look and was glad I did! Very smooth and well designed layout, looks and feels organized with the bonus of a real notepad/ diary look, nice!! Loads of good points, like voice notes and the sections with colors and emblems, nice touch."
All these comments have us positively glowing with pride and we want to convey a HUGE thanks to all our users out there! We promise that we will make Groovy Notes, groovier in the near future. So stay tuned!
You can read more about Groovy Notes and purchase it from the BlackBerry App World here: