The October 2011 issue of Fortune India featured an article titled "Apple's Foot Soldiers in India". This article essentially talks about the new generation of app developers in India and their love for everything to do with Apple and iOS.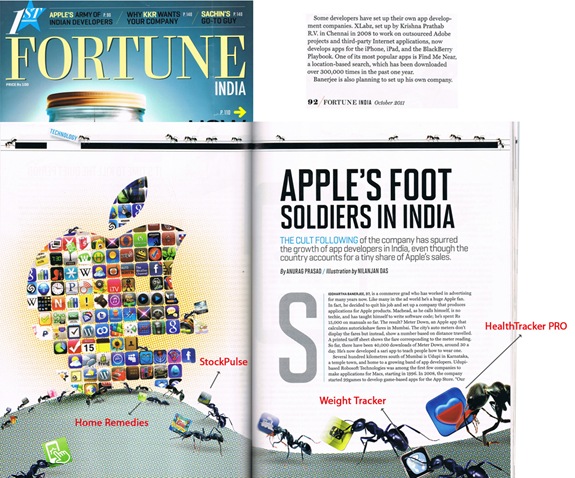 The number of iOS app developers is on the rise, even though India accounts for only a small percent of Apple's revenues. Infact, the passion for iOS runs so strong, that most of these developers quit their regular jobs to set up their own app development companies!
We at XLabz Technologies can completely relate to this story and that is why we are quite pleased to see our name in this very article. A special mention has been given to our very first iPhone app – "Find Near Me"- which has over 300,000 downloads. We are also totally excited to see that quite a few icons on the feature graphics are from our apps like Health Tracker PRO, StockPulse, 101 Remedies and others!
We'd like to thank the editors at Fortune India for recognizing XLabz as one of the "soldiers" in Apple's growing "army" and we promise to March On!!