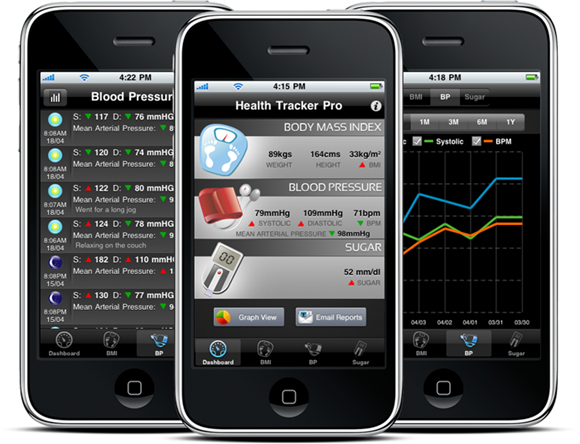 XLabz Technologies is pleased to announce the release of HealthTracker PRO, a new iPhone application which helps users track their Blood Sugar, Blood Pressure and Weight all within a single application. The app gives indications on the users health condition, auto computes BMI and MAP and allows to send their health reports to the doctor – all within the app. HealthTracker PRO is designed for users who would like to constantly keep a tab on their health and thus improve it.
HealthTracker PRO is a comprehensive and complete health tracking application which helps the user to keep track of all the three common health problems which can be tracked at home:
Blood Sugar

Body Mass Index

– Weight, Height and

BMI
HealthTracker PRO has individual screens for each of these categories and the inferences are color coded to give a fair understanding of potentially risky values and safe limits. The application automatically computes inferred values like Mean Arterial Pressure and Body Mass Index based on the values entered by the user, thus making it easy for the user and the doctor to quickly understand health patterns.
A separate charting page shows health trends in a visual graph which can be toggled to see individual values, switch between ranges and a snapshot of the screen taken and stored on the iPhone for future reference.
The "Email Reports" feature allows the user to email selected or all recorded values to the doctor or to his own email address.
Individual notes can be added for each of these readings to keep a record about the type of reading (fasting sugar etc.,) or anything else which might be relevant to the user or for the doctor's reference. Each readings have individual indicators to show the time and date of the readings.
Key features:
Color coded values and indicators to get an immediate sense of values.

Ability to track Blood Sugar/Diabetes

Ability to track Blood Pressure – Systolic, Diastolic, Pulse Rate

Automatic computation of Mean Arterial Value which is a key indicator of one's heart's health.

Ability to track Weight & Height.

Automatic computation of Body Mass Index (BMI) which is a key indicator of obesity.

Individual graphs to show health trends

Snapshot feature to store the graphs as pictures for future reference

Customizable date export feature which allows sending the recorded readings to the doctor.
Device Requirements:
* iPhone, iPod touch, and iPad
* Requires iPhone OS 3.0 or later
* 0.5 MB
Pricing and Availability:
HealthTracker PRO 1.0 is only $1.99 USD (or equivalent amount in other currencies) and available worldwide exclusively through the App Store in the Medical category.