We'd like to announce the release of the latest update for ProInsights – V2.0!
ProInsights creates interesting infographics from your LinkedIn profile and helps you visualize and gain deep insight into your network. It uses the data from your LinkedIn profile and shows you useful nuggets of information through a cool portfolio style design.
Our earlier update; ProInsights V1.1 included the following features:
Ability to email Infographics from within the app (for iPad only)

Click on connections photo in the Photo Wall widget to see profile information
Here's the list of new features in V2.0:
Network Updates: View all your network updates; including company updates, job postings etc. and interact with them. You can now post status updates on your LinkedIn timeline.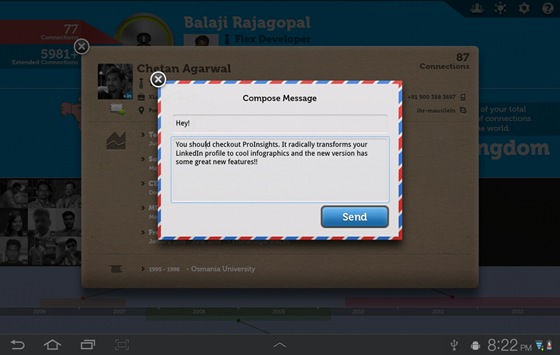 Send your contacts messages from within ProInsights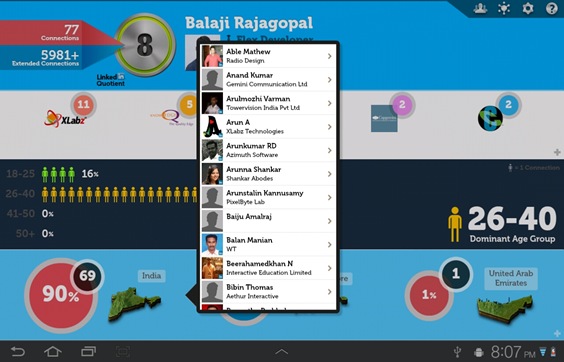 Interactive Infographics: You can now view your connections' profiles from your infographics. Just tap on the countries, companies or the photo-wall widget to view more details on your connections!
You can read more about ProInsights and download it here.
User Reviews on ProInsights so far:
"Phenomenal! – I was looking for a LinkedIn app for my iPad and I couldn't be more pleased by the visualization of my network that ProInsights creates. It is absolutely worth the price."
"This App is a must have for anyone who loves LinkedIn"
"I just downloaded the ProInsights analytics app for LinkedIn on Blackberry Playbook. It is an amazing app. Kudos to XLabz Technologies!"
"You made my Monday meeting a pleasure when I showed off ProInsights. Huge hit."